SpiriLite is one of a kind platform that brings 'Health and Wellness' services at fingertips of end users. An-easy-to-use, configurable solution for Service Providers as well as Service seekers. Such a solution provides a direction to the modern Health Care industry by providing flexibility and ease of use.
"Being a startup and constrained with resources, it is crucial to have a development partner that can go an extra mile and deliver a cost-effective solution with the least amount of overseeing. Blue Whale team righteously did all Xs and Os."
– Customer
THE CHALLENGES: An universal solution with a super tight budget; The User-Experience has to be simple and branding was critical.
SpiriLite Inc. is a Chicago based startup who took on A challenge of delivering a solution that re-defines Health Care industry. The client came to Blue Whale to develop a universal solution that serves both, the 'Service Providers' as well as 'Server Seekers'.
Branding, UX-UI
Universal Solution (iOS, Android and Web Administration Module)
Audio, Video and Text Chat
Secure, Scalable Cloud deployment
Stripe Integration for the Payment transaction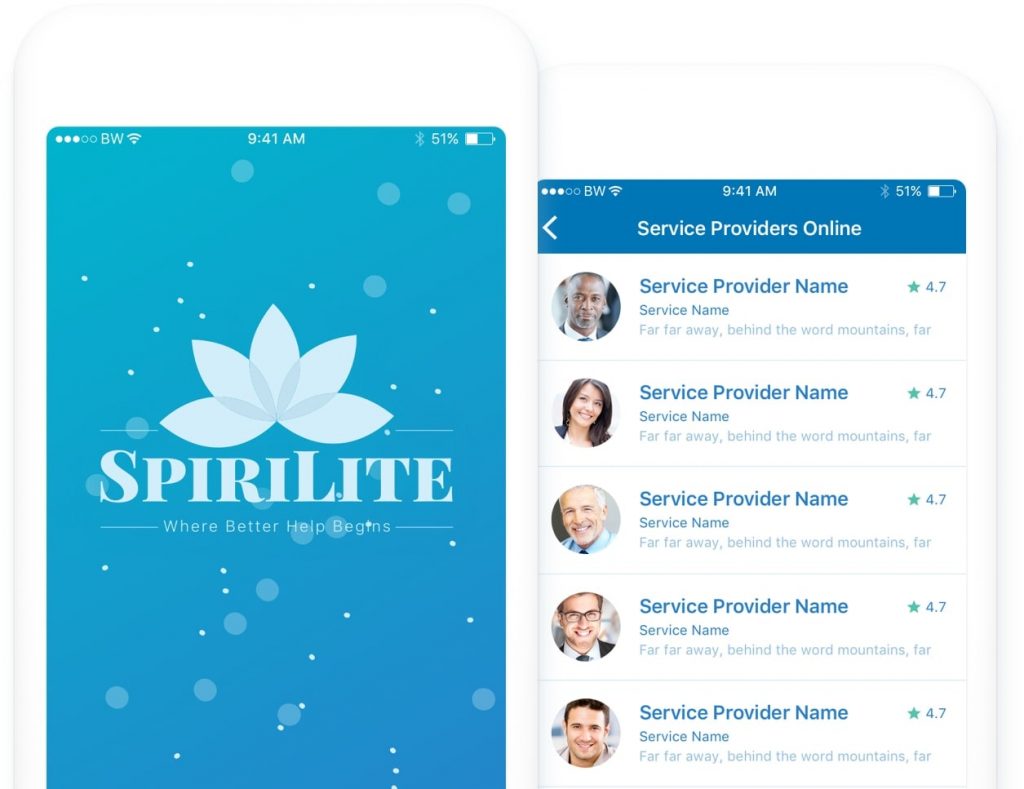 THE SOLUTION: Native apps for iOS, Android and a Web Administration module that helps ADMIN manage services.
Due to a very limited budget, Blue Whale used Xamarin to create native iOS and Android apps by re-using at least 35% of the code base. This helped the client save 30% towards development cost compared to traditional development practice. Even with Audio chat, Video chat, and text chat, our cross-platform development team delivered a stunning iOS and Android app and saved tremendous cost towards development.
Tools Used: Xamarin Studio, Twilio and Vidyo.io for Audio, Video and Text Chat. Azure (Microsoft Cloud) scalable deployment.
– Solutions Team
THE RESULTS: End to End experience and native iOS and Android apps with Web Administration portal.
Blue Whale provided a full spectrum of end to end services including Brand Identity and Logo creation, Prototype and flow Design, Software Architecture, Xamarin iOS, and Android development, back end database architecture and API development and Azure cloud deployment. The solution provides and supports workflow for healthcare service providers as well as the patients.
Features: GPS location tracking, Audio, Video and Text Chat (Twilio and Vidyo), Stripe for Credit Card transaction, Subscription services, Review for Providers, Referral program integration, Payment reports.
– Customer Success Team