Until the COVID-19 pandemic, e-commerce had steadily made gains at the expense of retail sales in most sectors of the US economy—except for one area. Groceries.
Due to the need for refrigeration and a strong desire among consumers to select their own perishable goods, there wasn't as much demand for grocers to adapt. While the market for books, movies, toys, clothing and household items had experienced major shifts in purchasing habits, the majority of groceries were still being bought by shoppers personally visiting brick-and-mortar stores.
Most large and midsize grocers were already providing online ordering and curbside pickup before Covid-19, but it was a small percentage of sales compared to traditional in-store visits.
Mandatory quarantines across the US changed that almost overnight.
With no one sure how easy it was to contract the virus, and few N95 masks to be found, it didn't seem safe to stock-up on groceries inside a store full of people who might be sick.
Online orders and curbside pickup exploded in demand, and quickly showed which stores were able to adapt and which were being left behind. Generally, small independent stores don't have an online option for orders, so many had to switch to curbside ordering, with employees running through the aisles to collect what was being requested outside.
Some midsize grocers were better positioned to handle the abrupt change, but found their online systems didn't function or scale as smoothly as their customers expected.
One item missing for almost all grocers, of all sizes, has been a lack of fast delivery options. Even the one company most would expect to be in the best position to handle Covid-19, Amazon, couldn't handle the surge in new online business. During the height of the crisis, it stopped accepting new grocery delivery customers and asked those who were able to visit its stores.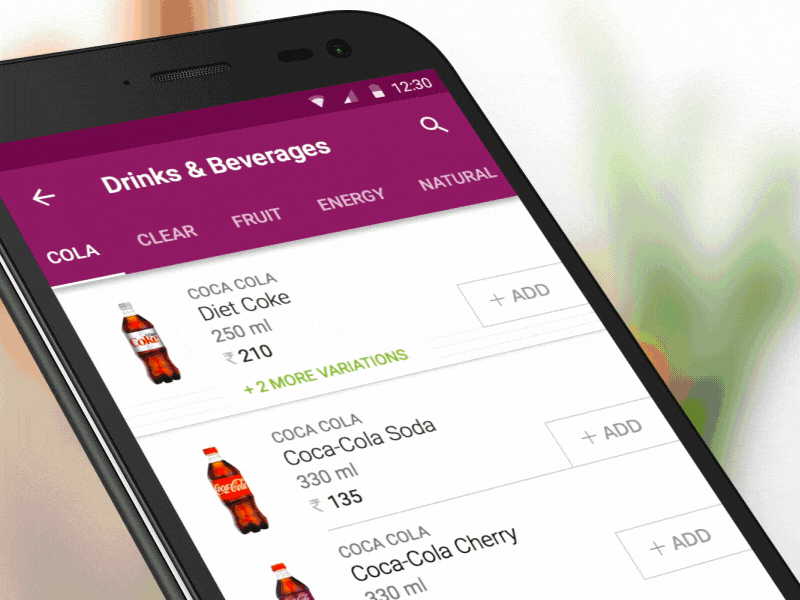 Customers Expect The Online Buying Process To Be Easy
There's something else missing from the e-commerce experience for most grocers as well—an app.
The average time each user spends per day on a mobile device is more than double what is spent on a desktop computer. And without an app, shopping for groceries on a smartphone isn't as easy as on a desktop.
Looking at the experience shoppers have come to expect from other sectors, such as the restaurant industry, the difference in how convenient it is to place online orders and how smoothly their apps operate is quite obvious. Most grocers are behind in this area.
Many restaurants, with Dominos serving as an excellent example, have excelled at making apps that do 3 things:
Provide incentives to come back again and make more orders.
Remember what has previously been ordered, so they can quickly be bought again.
Generate relevant suggestions for other items the customer may want to buy.
All of these strategies increase sales. And they're much more effective than just focusing on the desktop because they reach customers wherever they are, which is almost always on their phones.


How Apps Make Shopping For Groceries Easier
Your customers want the businesses they interact with to make the buying process easy. And providing an app that allows customers to make simple grocery lists is just the beginning. You also need them to browse your merchandise, which is what makes the in-store experience so special.
Additionally, your app should incorporate AI to analyze what items are commonly purchased together across all of your customers. This will give you a powerful recommendation engine that allows individuals to compile their grocery lists quickly. In fact, it should work so well that it can guess what recipes they're using.
For each order they place with you, the suggestions your app makes will get even better. When the process to order groceries is so easy, and you're the only grocer that knows them so well, they'll automatically use your app every time they need to restock.
The Problems Your Grocery App Prevents
Here's another analogy to the restaurant industry. Since many small restaurants don't have their own apps, other businesses seized the opportunity to be a middleman between them and their customers.
They took their menus, put them in their own apps and online platforms, offered delivery, and marked up the prices. At first, restaurants didn't care, because it increased their sales. But then they realized they had lost control of the relationship with their customers.
These delivery services started showing their customers all the restaurant options available and told each restaurant they need to advertise with them to ensure they stay at the top of the list. And when there were delivery problems, customers were angry at the restaurants for allowing it to happen.
When you have your own app, it stops the delivery industry from getting between your store and your customers. You can control the process. If you want to hire drivers to make deliveries, your app can be designed to coordinate the logistics.
You'll also save on advertising expenses. Instead of buying so many direct mail pieces, an app gives grocery stores a direct line of communication to their customers. And the best part? It doesn't cost anything to send them a message, no matter if it's a coupon or a reminder that their favorite item is in stock.
Are you starting to see the possibilities an app can bring to your grocery operations?
According to the report, "Online grocery shopping sales in the United States is estimated to reach 29.7 billion U.S. dollars by 2021".

Blue Whale Apps's AR Capabilities
We can help you discover the opportunities that will excite your users and help you compete in the connected and smart world that's emerging, including adding AR to your in-store shopping experience.
From strategy to UX design to app development, we've got you covered. Our team specializes in end-to-end app development for Fortune 1000 businesses and government agencies. Recent projects have included apps for organizations in healthcare, technology, public utilities, entertainment, retail, consumer products and the automotive industry.
And last year, Blue Whale Apps was named the #1 Mobile App Developers by AppFutura, Clutch, and Good Firms in 2019.
The future of grocery shopping and delivery is going to heavily reply on apps. Get in touch to see how we can leverage your brick-and-mortar expertise into a world-class app experience for your customers.