Blue Whale Apps is pleased to share that Clutch has recognized us as a Market Leader for App Development in its 2019 report. In 2018 also, Blue Whale Apps was recognized as an industry leader for the Miami region.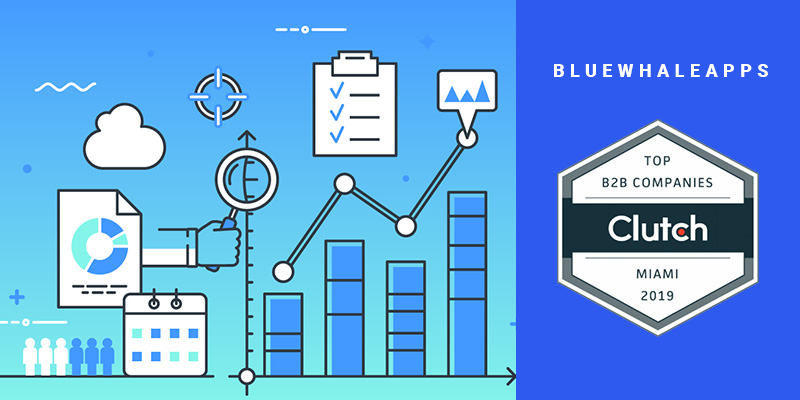 Clutch is a B2B ratings and reviews site based in Washington DC. They provide detailed insights on businesses and industries based on market research, analysis, and in-depth interviews with clients. This means that a high ranking from Clutch is due, in large part, to receiving really good reviews from our past clients. Since Clutch started collecting them in 2012, they have received 15 reviews from our clients, all with perfect 5-star ratings.
Blue Whale Apps has been featured among the top market leaders by Clutch in its 2019 report for the following categories:
Top Web Developers in Miami
Top Mobile App Development Companies in Miami
Top Android App Development Companies in Miami
Top Social App Developers
Top Boutique App Developers
Top iPad App Developers
On the importance of getting this recognition, Mr. Pathik Jayani, the Managing Director of Blue Whale Apps said, "Blue Whale Apps is honored to be featured as a 2019 Clutch Leader for App Development. It is extremely rewarding to know that our clients trust us and like our work and we are thankful for both our present and past clients who reviewed us on Clutch. We look forward to continuing the standards of our services for providing quality solutions to our clients that help them grow their businesses."
Since client reviews are the base for all the rankings that Clutch publishes, we would like to thank our clients, both past and present who shared reviews like these with 5-star ratings (And you can see all our reviews on our Clutch page.)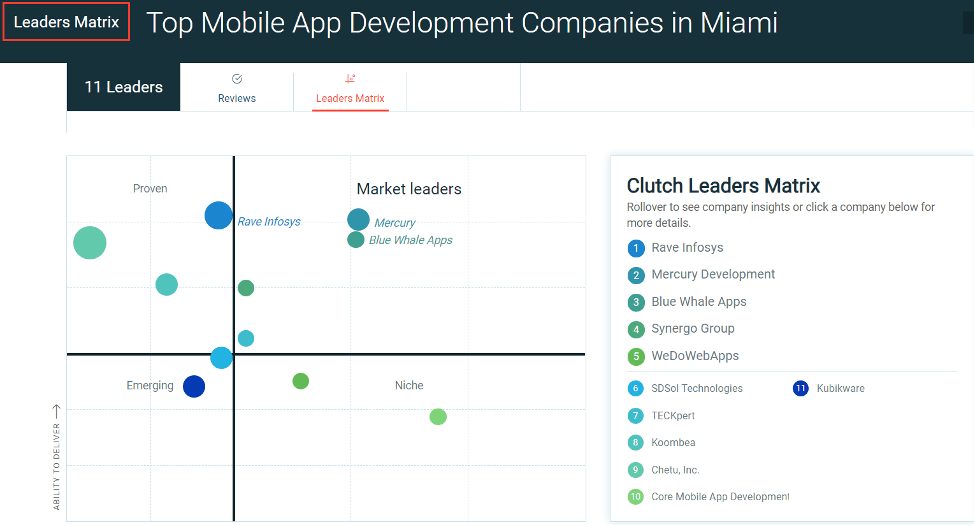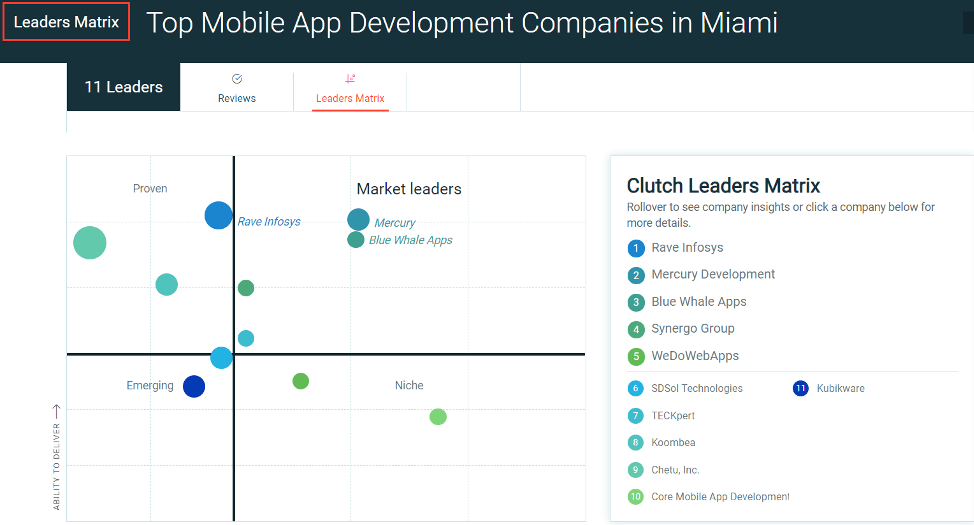 "It's exactly what I had in mind. The app has a great design and great colors. I gave them the idea for the design, and they just knocked it out of the park."
"They're super helpful because I didn't know anything about what goes into making an app."
"They were so good, so handy, and so easy to work with because they knew what they needed and they found a way to get it from me in the easiest process possible."
"I honestly couldn't run my company without Blue Whale to develop and maintain our app."
"I wanted a team that would challenge my thoughts and offers suggestions on how to create a better app … and Blue Whale Apps certainly met that challenge."
"The feedback along the way from our group was that Blue Whale produced the smoothest IT project we've ever done here."
Along with Clutch, we have been also featured among the Top 39 App Development Companies in Miami by The Manifest, a sister site that is designed to allow potential clients to quickly browse a list of business sorted by service focus and location.
Clutch also has another sister site called Visual Objects, which is dedicated to creative and digital design firms. The site is set up with a focus on the visual aspects of a business's work, providing easy-to-view portfolios of past projects. We are featured in their mobile app developers category.
Blue Whale Apps knows that making a great app can be a real challenge, and we are so proud that so many people think we have done such a great job. We can't wait to continue improving and making the best apps out there.
To learn more about us, reach out to us and we'll be happy to talk.