The technological disruption has transformed our lives to an extent where we are highly impacted by touchscreens and voice assistants. When we talk about voice assistants, we immediately start thinking about Alexa, Siri, or Google Home, which are playing a key role in helping us perform tasks easily by being our virtual personal assistants. Be it playing music, asking the time, getting news reports, sending texts or making calls, or even asking them to turn the lights off, these voice assistants can do anything with simple voice commands. This is why the popularity of these smart speakers is growing rapidly. 
Since these smart conversational interfaces are making people's lives easier – at work, at home, and various other touchpoints, a lot of people are adopting these voice assistants. According to research published on TechCrunch, 41% of Americans own smart speakers like Alexa and Google Home. Looking at this, a lot of industries are eyeing on implementing voice assistants to provide useful information to their consumers and be responsive to their needs. One of these is the healthcare sector. 
Hospitals and healthcare service providers find voice assistants to be highly effective in improving patient care services. It is almost as if these virtual assistants are the next logical step in transforming the healthcare domain and improving patient's lives. 
How Voice Assistants Like Alexa and Google Home Are Reshaping The Healthcare Industry?
Virtual assistants like Amazon Alexa and Google Home are making way into the healthcare industry with their several inbuilt skills, encouraging doctors, nurses, and patients to use in their day-to-day operations. Alexa and Google Home help patients get answers to critical questions about various diseases, learn about symptoms, identify available treatments, and remedial tips. Aside from this convenience, patients can use smart applications to interact with these smart speakers without using their hands. 
These devices also remove barriers for patients with disabilities to get control over their health. They are also helpful to patients with diseases like multiple sclerosis, which impacts their mobility or diseases like macular degeneration, which impacts their vision. 
Let us find out more benefits of using voice assistants in the healthcare operations: 
Voice assistants can listen to symptoms to suggest all the possible conditions. Many applications can be downloaded in our smartphones to help us connect deeper with the device. 

They can take notes on our health statistics to keep a check on our medical condition and share it with our doctors. 

It can dial our doctors or call an ambulance without having to get up or dial a number. 

Alexa or Siri can help users find information about local healthcare providers with voice commands like

"Alexa, which is the highest-rated orthopedic doctor near me?"

Alexa will then search the local business listings and then come up with an answer. 

These voice-enabled devices can help clinicians as well. For example, nurses can use Alexa skill to get an answer about a particular drug usage or procedure. Pharmacists can also use it to get pharmaceutical information from their online database. 

They can call other hospital workers for any help or other pharmacy shops for any medical emergency.
How Does Amazon Echo Work?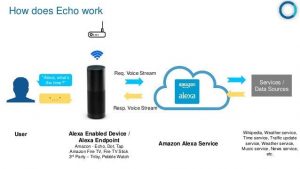 How Does Google Home Work?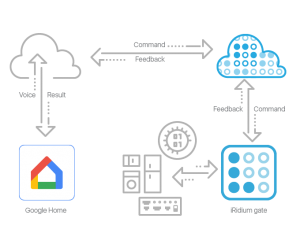 How Hospitals And Healthcare Organizations Can Benefit Through Voice Assistants?
Over the last decade, many healthcare companies have started working on creating intuitive, interactive, and user-friendly Alexa or Google Home skills to help their patients and service care providers. They are working on offering valuable functionality and include questions that users are likely to ask their voice assistants. Below are a few ways these voice assistants can help hospitals and healthcare facilities: 
It can develop skills to promote brands and provide patients with everyday health inquiries as well as common healthcare tips. For example, KidsMD skill can help with pediatric related problems and guide parents on when to seek advanced care for their children. This can help organizations win the patient's trust. 

Geo-location skills can help healthcare organizations guide their patients to find the most convenient care within their nearby areas as well as provide them with the waiting time information. 

Disease management skills in Alexa or Google Home can help elderly or disabled patients to use verbal commands to report their medical condition, receive prescriptions, as well as medicine and other reminders. This enhances patient satisfaction and boosts loyalty, thus creating a more connected patient care experience. 
Wrapping up 
Amazon and Google are investing heavily in upgrading the AI capabilities of Alexa and Google Home, respectively. These voice assistants have a bigger role to play in the coming future. Hospitals are placing Alexa in patient's rooms so that they can inquire regarding their health, diet, medicine schedule, etc., without waiting for a nurse. Patients can also log their pre and post medical conditions to help doctors diagnose their conditions more comprehensively. 
With new skills added on an everyday basis, voice assistants are becoming an essential part of the healthcare industry. If you want to stay in the competition and shift your focus towards patient-centricity, you should add Alexa or Google Home skills in your healthcare setup. 
Voice technology is here and many businesses in the healthcare sector are adopting it. Looking to connect with your patients in a simple yet modern form of communication by leveraging voice technology apps? Our healthcare app developers build innovative digital solutions that connect patients safely and conveniently.
We provide Google Home and Amazon Alexa Skills application development services. At Blue Whale Apps, we develop robust apps and skills to unlock an incredible range of possibilities for your business. Be it designing a completely standalone app from scratch or expanding your current app suite to integrate with your smart speaker functionality, we can get it all covered. Have a unique idea to include Alexa skill or Google action at work? Partner with Blue Whale Apps to turn your dream voice application into a reality.