It was the year 2009. You were unhappy with the service rendered to you by a leading home appliance brand. The washing machine that you had purchased started malfunctioning within a couple of months of purchase. As that was still under warranty, you needed to reach out to the company. So, what could you possibly do? Sent an email to the firm? Well, you would not have received a reply from them for weeks. Should you have gone to the shop you purchased it from? They would have directed you back to the company. Should you have called the brand at the helpline number? You would have been on the line for hours for them to attend to you as 'all their executives are busy attending other clients.' Any other option? Well, sadly, there were none.
Now a decade fast forward when you encounter the same problem, you have a plethora of options in terms of interacting with the company. You go to the website and there will be bots to assist you. You will be led to relevant articles that will take into account cues in the form of words that have been reported to the customer support in the past. The deep learning methods used by the organization will allow them to visualize, create, and implement a more user-specific and better tailor content to you. What this means for you is that you will now have the satisfaction of interacting with representatives of the appliance brand and arrive at a convenient solution for conflict resolution. All of this, without you having to waste much of precious time in it.
Even with the best customer interests in mind, any of the companies would not have been able to meet the demand for responsiveness without the aid of Artificial Intelligence or AI. The reason for this is the sheer unpredictable volume of customer complaints. Responsiveness is easy when companies have 20 to 30 customers in question. But they can't give individual human points of contact when its thousands of customers. As per a 2018 Forrester report, 77% of customers feel that timely resolution is the most crucial part of their interaction with a firm or brand. It means that customer experience can make or break a brand. Indeed, it is here that businesses can grow or they can break.  That is why they are turning to AI to take them to drive home customer satisfaction.
However, customer interaction is not the only sphere where AI will help. A very important part of customer engagement ideas is that of brands understanding the customer demand of a particular product. Now, it is very difficult for companies to roll out a product and then see customer reaction to understand whether it will sell or not. If it does not sell, the losses encumbered will be difficult to deal with. For product-based companies, it is much better if the same is understood when the product is still in the R&D stage. Thanks to AI that is now possible. This development means that companies will now be able to create and deliver products that the customers need (and not what the company feels the customer might need).
Having understood the role of artificial intelligence in customer engagement, we will now throw light on 3 AI principles that are making all of this happen. All the three aspects discussed here have tremendous potential, the magnitude of which is yet to be realized.
1. Quicker resolution
Any service provider has to deal with a certain amount of customer complaints daily. These days, machine learning incorporated into chatbots is revolutionizing the way companies interact with their customers.
The advantage of using chatbots for this is that irrespective of the volume of complaints coming in, the chatbot will interact with the customer in the same way. This will make them feel valued, and most of the time, they will not even realize that their interaction is not with a human being.
For brands, the most lucrative factor in implementing chatbots is that these can be easily integrated into an app or a website. So, they do not have to shell out a lot of money in the development of chatbots. Other than cutting down the operational costs, the additional advantage of using well-designed chatbots is the enhanced and successful customer engagement strategies which give brands an edge over their competitors.
2. Effective engagement
All the software and programs that we use have been programmed by somebody. Before writing the program in a computer-understandable language, what the engineers did was to jolt down the mathematical instructions in the form of an algorithm. Now, the algorithms are usually supervised. With artificial intelligence and machine learning, it is possible to come up with algorithms that can make sense of unstructured data. These sophisticated algorithms will form the basis of Artificial Neural Networks and dictate whether a neuron should be fired or not. This is a crucial factor as the firing of one neuron will decide how the rest of the neurons will behave. With machine learning and AI, companies can study patterns in customer behavior. This will act as a reference for them to cater to their buying interests of their potential customers and thus come up with effective customer engagement ideas.
3. Intelligent Analysis
At the core of AI lies data collection and analysis of the same. Have you ever wondered how Google can provide you data in the form of news, images, videos, etc. with so much precision? The secret here is that Google's AI systems are fed with huge volumes of data. It is then programmed to give you the most accurate results from them. Naturally, the more the amount of data supplied, the higher will be the precision of the results. Now with AI, brands can collect customer data from a variety of sources. Mobile apps, websites, and cookies are some of the ways by which companies get the data. Analytics is then performed on them to create a personalized experience that uses the customer's preference in its marketing skills. Naturally, such customer engagement strategies get better user acclaim and are more productive.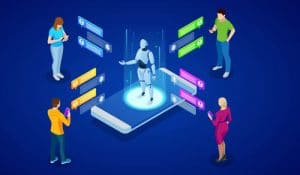 Conclusion
Thus, in a nutshell, we can say that the accumulation and use of customer data are very crucial to customer engagement. The latest sophisticated data analytics tools can help do all that and thereby give high impact customer experiences. Every customer comes with his own set of expectations, and it is only with AI that brands can cater to such a vast range of personalized requests. Artificial intelligence and machine learning are able to provide a more convenient, intelligent and informed customer experience. It enables a much better experience for today's highly demanding customers (who reside in an omnichannel world).
More and more brands are now acknowledging customer engagement as an investment in customer relationships, and the future does look promising. As per a Gartner report, by 2020, 85% of all customer interactions will be handled without a person. Indeed, with technological advancement coupled with human creativity, artificial intelligence in customer engagement will prove to be an asset for the brands.
Looking to implement AI for enhancing your customer engagement and business ROI? Get in touch with us.