AI is the next 'big' thing in technology.
AI is also believed to be the next phase of human evolution.
In the last few years, the technology world has witnessed enormous growth of Artificial Intelligence technology. Having seen the exceptional strengths and promising potential to transform businesses for betterments, startups as well as enterprises, have begun to embrace the AI technology to level up their businesses. There are virtual assistants, chatbots, e-commerce systems, GPS navigation apps and many more that are powered by Artificial Intelligence. Hence, AI can be leveraged by businesses of any industry that aim to enhance their processes and customer experience with AI.
According to research conducted by Narrative Science on several enterprises, AI adoption rose to 61% in 2017 from 38% in 2016. Seeing this exceptional growth in the adoption of AI, 90% of companies are interested in incorporating AI into their business applications and tools to make them smarter, which can ultimately help them make efficient decisions, enhance business processes, and grow their businesses quickly. (Source)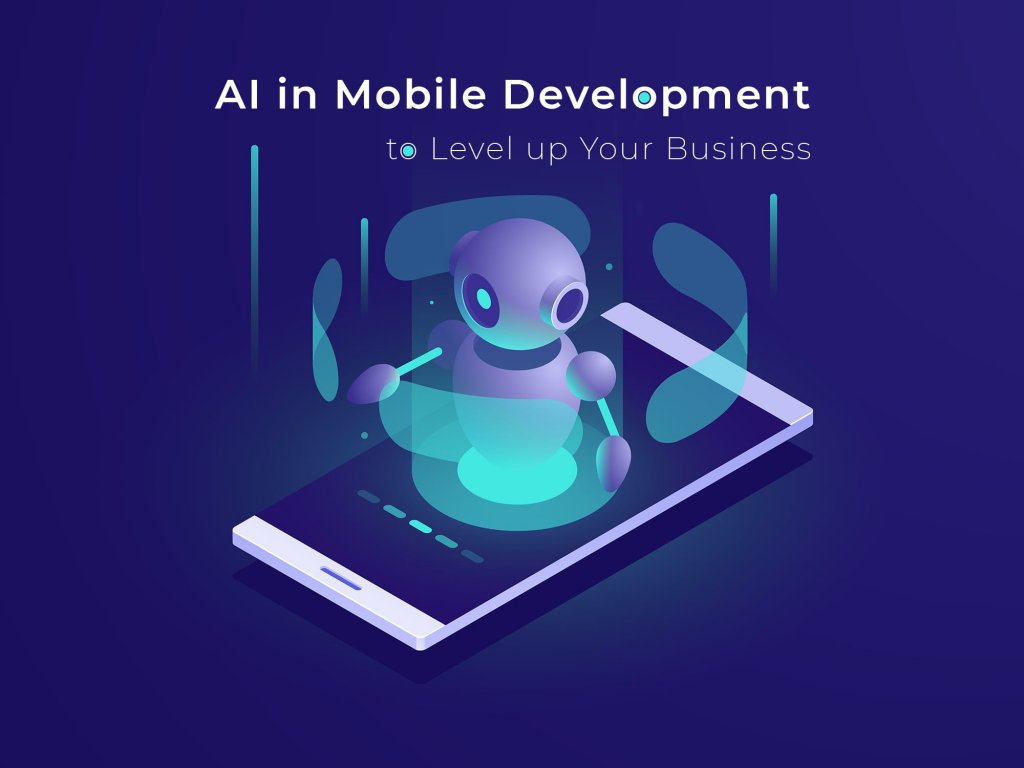 Amazon has utilized AI implementation in the best possible way to achieve its growth target. They have created AI algorithms for purchase predictions. They gather relevant data with the help of AI to understand customer behavior and buying trends. As a result, they can know future trends and design strategies accordingly. The acquired result from the AI-enabled system empowers Amazon to easily offer discounts to the right audience at the right time, show target adverts and even inform the users about future products.
AI and mobile apps – a fruitful combination
When mobile apps are the future, it is only wise to combine them with the AI to ensure exponential growth of businesses. AI integrated mobile apps enable businesses to deliver smarter and personalized experience via different options based on the data collected. In other words, by integrating AI with mobile apps, you can not only boost customer experience but can also create a brand identity by reaching out to the right audience at the right time with the right message through personalization.
Many mobile development companies are already integrating AI into mobile apps that enable advanced processes like face recognition, barcode scanning, text recognition, and image labeling, which help in many business processes. There are several apps equipped with AI to simplify tasks. For example, AI integrated health and fitness mobile apps help users keep a check on their calorie intake, burned calories, workout sessions as well as diagnose heart conditions, measure BMI, etc. Apps such as Spotify are challenging Apple Music with AI-enabled recommendations that are accurate and serve customers' choices efficiently.
Why do businesses incorporate/implement AI in their mobile apps?
To stay ahead of the curve, irrespective of the industry, it is necessary to keep up with the fast-moving and fast-growing technology world.
By integrating AI in mobile apps, businesses can
Increase accuracy and perfection in mobile apps
Enhance customer experience via personalization
Perform and manage operations easily
Make accurate predictions
AI can help businesses take one step ahead in human-machine interaction. It is not just a single technology but a bunch of interrelated technologies. Artificial Intelligence has changed the way humans interact with machines and vice versa. Let us look at the top 5 AI technologies that can be utilized in mobile application development.
Natural Language Technology (Natural Language Generation)
Companies such as Attivio, Automated Insights, Cambridge Semantics, and Narrative Science have leveraged Natural Language Technology with AI to turn data insights into natural language. If your business ventures into providing customer services, you can also use Natural Language Technology to create a mobile app that provides you valuable information and market reviews.
Speech Recognition Technology
One of the most popular technologies used to develop mobile apps with AI is Speech Recognition Technology. It allows the computer to decode human speech into a language understandable by a computer. Siri and Cortana are some of the most popular speech recognition systems.
Chatbots
From recently initiated startups and home businesses to giant companies, everybody is using chatbots for better business. It is essential to address your customer's queries immediately and satisfy their requirements. When it is humanly challenging to provide such services 24/7, these services can easily be extended by utilizing chatbots. Brands such as Sephora, Spotify, Starbucks, The Wall Street Journal have utilized chatbots wonderfully and have seen remarkable benefits. If you want to build an application that interacts with your customers, you can choose to implement chatbots in your mobile application. Companies such as Amazon, Apple, IBM, Microsoft, Assist AI, Google provide such technologies.
Machine Learning
One of the most utilized and popular AI technology is Machine Learning. It helps in analyzing, identifying and extracting valuable insights from the Big Data. The more accurate the results, the more chances of growth in business. Machine learning helps you to provide personalized customer services, improve task and finance management, predict customer behavior, and build stronger marketing strategies for your business.
Companies such as Amazon, Fractal Analytics, Google, Microsoft odder machine learning services with which you can efficiently transform your business.
Image Recognition
One of the most popular technologies, 'Image Recognition' is improving day by day. It can easily be implemented in a mobile application to process the identification and detection of an object in an image or video. Image recognition technologies are highly used to detect license plates, verify users by their face, diagnose disease, etc.
Wrapping up
AI is considered the next phase of the technological revolution because it is changing the way humans interact with machines and machines with humans.
The self-learning systems that can perform human tasks truly mean a huge leap in the technological revolution. When it is still the beginning, businesses have witnessed and identified the great potential AI technology brings. Looking at the rapid growth, the market for Artificial Intelligence is expected to grow to $5 Billion by 2020.
As said earlier, many mobile development companies are now committed to the task of developing intelligent mobile apps by integrating Artificial Intelligence. With AI, you can tailor your apps to function as per your user's requirements and stand a better chance to attract more users. Looking for a partner to develop intelligent apps based on AI? We would love to help you. Tell us how!